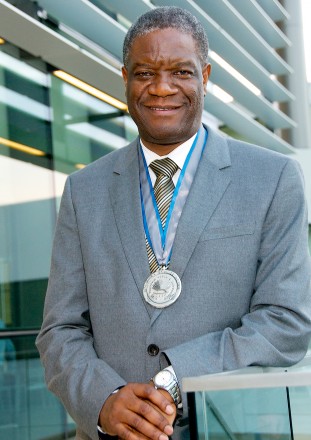 Dr. Denis Mukwege, a laureate of 2014 Inamori Ethics Prize, received the Honorary Degree of Doctor of Medicine at the University of Edinburgh. The Presentation ceremony was held at McEwan Hall of the University on December 1, 2017. James Smith, Vice Principal International and Professor of African and Development Studies mentioned "Dr. Mukwege has been fearless in his efforts to increase protections for women and to advocate that those responsible for sexual violence be brought to justice. It is a privilege to be able to honor him for his bravery, compassion and unceasing work to heal survivors."
Dr. Mukwege founded the Panzi Hospital with a help of the international organizations in Bukavu, Democratic Republic of the Congo (DRC) encountering continuous conflicts. He expected to be working mainly on issues of maternal heath, but found many patients were victims of extreme sexual violence. Since Panzi Hospital opened, Dr. Mukwege and his staff have helped to care for more than 50,000 survivors of sexual violence.
He narrowly escaped death and fled to exile in Europe. His absence had a "devastating effect" on the daily operations at Panzi Hospital. He returned to Bukavu, where locals had raised funds for his return ticket by selling pineapples and onions. The welcome he received by the citizens of kivu from the airport was more than 20miles long.
Dr. Mukwege made mighty efforts to have saved a lot of victims under conflicts in DRC and contributed to keep human dignity.
Congratulations for the great honor.
Inamori Ethics Prize Academic Symposium / Speaker: Dr. Denis Mukwege
Back to the list