The Inamori Foundation sponsored the Hamburg Ballet Gala "A World of John Neumeier" in Kyoto on Saturday, February 17, 2018. The Gala Play is performed by the Hamburg Ballet that John Neumeier, Kyoto Prize laureate and a world-class choreographer, directed and choreographed.
This time sponsorship as a social contribution program covers not only the main play of Feb. 17, but the special workshop by the Hamburg Ballet and a chance of observation at the run-through performance held one day before the main event. These opportunities cannot be realized without a warm understanding by John Neumeier and his Hamburg Ballet.
On February 14, the selected 40 students who aim at professional ballet dancer participated in the special workshop. The instruction was given by Lloyd Riggins, Principal and Deputy Artistic Director of the Hamburg Ballet.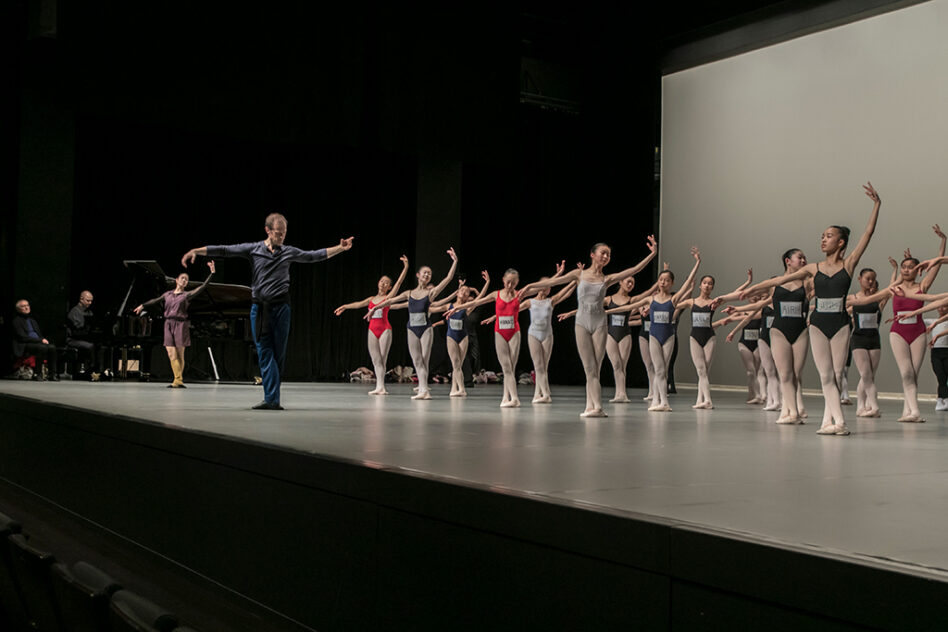 The students danced in a relaxed way with a professional pianist's live play and it lasted for two hours.
"Feet on ground; Upper body above waist to the sky"
"Legs are like music. A body gives a melody."
"Move a waist at first, followed by legs."
The students enthusiastically gazed at the Riggins' gesturing instruction. Some students waiting in the stage wing copied the exact movement to capture the physical expression. It was impressed a lot that they were working hard without taking a rest. In the special workshop, John Neumeier and a soloist Madoka Sugai appeared without pre-notice and the stage burst into their cheers.
Neumeier warmly commented, "2015 Kyoto Prize brought an opportunity to meet with these young ballet dancers. I look forward to meeting them again in Kyoto, who must be grown up then."
On Feb. 16, the Inamori Foundation exclusively invited the junior high & high-school students who applied the special workshop and the teachers of the ballet school to whom they belong to the run-through program prior to the main play. We would like to extend our heartfelt gratitude to the people joining in a series of the programs and the main event of ballet performance.
Back to the list