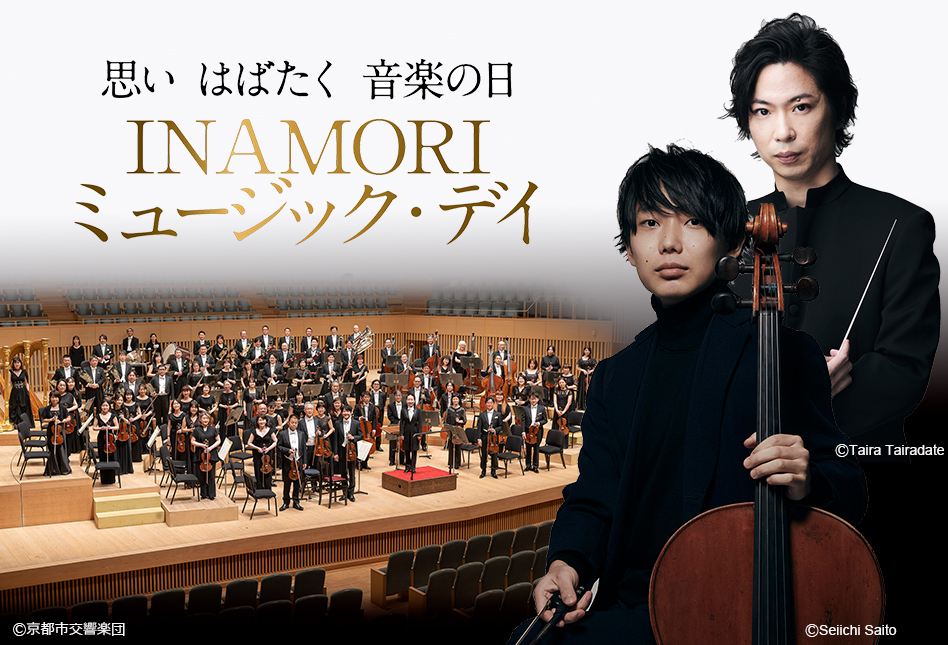 Tickets are now on sale for the INAMORI Music Day 2023 concert held at Kyoto Concert Hall on November 3, 2023. This year's concert will feature a conductor Kenshiro Sakairi and a cellist Haruma Sato, who will perform with the City of Kyoto Symphony Orchestra. In addition, 300 free tickets are available for junior high and high school students. Up to one accompanying person, such as a parent or friend, can apply at the same time.
"INAMORI Music Day 2023" Concert in Kyoto Concert Hall
Two up-and-coming musicians will play with the City of Kyoto Symphony Orchestra. We aim to create a place where feelings and stories will resonate between musicians and audience.
Day and time
November 3, 2023 (Fri. holiday) 2:00 pm
Venue
Kyoto Concert Hall (Main hall)
Price
JPY 2,000
*Three hundred junior high school and high school students to be invited for free of charge.
Performer
Kenshiro Sakairi (Conductor), Haruma Sato (Cellist), and City of Kyoto Symphony Orchestra
Program
Hikaru Hayashi: Carnival, the Wind-borne Premonition
Saint-Saëns: Cello Concerto No.1 in A minor op.33
Ravel: Alborada del gracioso
Ravel: Menuet antique
Ravel: Boléro
How to apply
Book tickets (Japanese only)
If you would like to make a reservation by phone, please contact us here.
Kyoto Concert Hall +81-75-711-3231
ROHM Theatre Kyoto +81-75-746-3201
Ticket booking is also available below
Ticket Pia https://t.pia.jp/ P-code 247-854
Lawson Ticket https://l-tike.com/ L-code 52835
How to apply (free seats for junior high and high school students)
Apply for free seats for junior high and high school students(deadline: October 4)
Related informations
Back to the list